ALTITUDE SYMPHONY
BANGKOK, THAILAND
At Altitude Symphony Charoenkrung - Sathorn we introduce to you the first high rise condominium project that is truly catered to family life. Be greeted with colonial contemporary arches and curves inspired by the rich heritage of the Charoenkrung area, coupled with the history of the Bangrak, Altitude Symphony Charoenkrung - Sathorn offers a striking architectural statement with the colonial contemporary design that aims to be one of the leading landmarks in a heritage area that is full of history and traditions.
A grand symphony of life where yours and your family's every lifestyle demand is catered to for a superior way of life. A project that is a magnificent creation and integration between the grandiose and the functional, you will be living in a property that is unrivalled in its grandeur and loving splendour that is the Altitude Symphony Charoenkrung - Sathorn.
DEVELOPER
Altitude Dev. Co. Ltd
ADDRESS
Sathon, Bangkok 10120, Thailand
NO. OF UNITS
99
UNIT TYPES
1/2/3 Bedrooms
TENURE OF LAND
Freehold
EXPECTED COMPLETION DATE
Q4 2020
Live at one of the most coveted locations, with a grand river view that is the majesty of the Chao Phraya River. The Altitude Symphony Charoenkrung offers privacy while being close by to various CBDs, prominently Silom, Sathorn and Rama IV. Within driving distance to shopping malls such as Paragon, Siam Center as well as Asiatique, you are conveniently situated when it comes to lifestyle and amenities. Coupled with close proximity to leading schools and universities such as Shrewsbury International School, Assumption College and Chulalongkorn University as well as being a short ride to many expressways, the project is the epitome of convenience without trading off the residential vibe that comes with the location.
A location where you and your family can conduct your life at your own pace.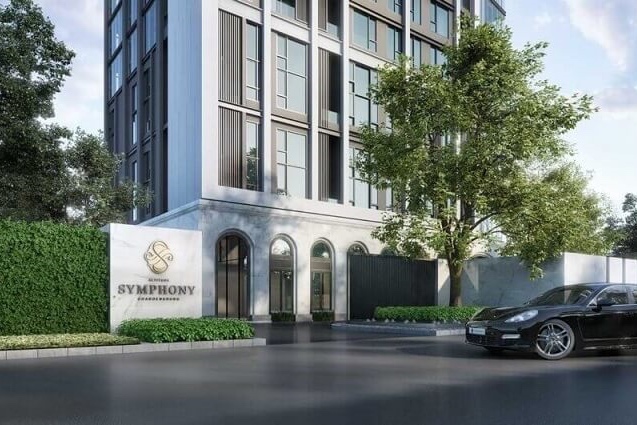 Altitude Symphony Charoenkrung - Sathorn offers more than 83% automatic parking for our residences, thus ensuring maximum comfort and convenience when parking your cars. We also have added two automatic parking lifts to minimise waiting time for you and your loved ones while waiting for your car in a special waiting lounge. You will also enjoy the added services of our project including valet parking, concierge and shuttle bus to BTS, boat piers and nearby shopping malls.
Walking into our lobby is almost like walking into a small concert hall. It is designed not only to cater to your visual senses but to offer you the ultimate feeling of comfort and security when you return home with your loved ones.
EXCLUSIVE SANCTUARY FOR THE FAMILY
For those with teenage children, we have created a space where they can concentrate on their after school studies in peace and serenity in a study lounge that enables you to bring in extra curricular tutors to ensure that your children fulfil their potential to the maximum. This lounge also doubles up as small meeting spaces should you wish to talk business with you associates or simply have a cup of afternoon tea with your friends. This multi-functional space is spacious yet intimate in its feeling in turn catering to both adults and children alike.
For those of you with young loved ones, our playroom is like a children's wonderland, with various built-ins that will enhance your child's motor skills and colour schemes that will fire your children's inner imaginations raising their childhood to another level. We are confident that this feature will leave you and your family with many happy memories to cherish for many years to come.